AUTHORS, MAKE THE MOST OF LIBRARY CONVENTIONS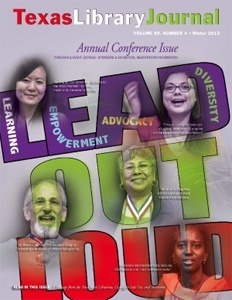 April 17, 2014
I've attended the Texas Library Association Convention many times, regardless of whether or not I had a book out that year. Once I was an assistant to a National Geographic author-speaker. The year my NF library book TURKEY IN THE NEWS came out, I pitched
NF books to librarians in the Enslow booth. The year I moved to a different town my NF sports library book contract was canceled due to the Recession, so I handed out tri-fold brochures printed with my new contact info and all my books in U.S. schools and libraries. And I've gone to TLA years when I had no books out. After all, state library conventions are like a big reunion of authors and librarians.

CONVENTIONS ARE NOT THE PLACES TO PITCH

I will never forget one year when an exuberant young woman rushed from one booth to another, holding out her manuscript. I don't know if anyone took it. But rarely is an editor or publisher working a booth. And if one is, he or she is wearing the marketing department hat at conventions. If you need to pitch your manuscript, attend a Society of Children's Book Writers and Illustrators (SCBWI) conference instead.

Instead, like at any reunion, when I go to a publisher's booth to browse the books I ask the workers if they had a nice flight, or if they are going to get a chance to see the city.

COST

Most authors pay for their own transportation, lodging, parking, and food. (One year Brian Enslow paid for my gas, parking and lunch for the two days I pitched at the Enslow booth. At the time I lived in the convention city.) Console yourself that these are all tax deductible.

However, ask your publisher to pay for your exhibit hall pass, about $35, if you are not booked for a speaker position. Ask your publisher to donate any ARCs or books requested for events you are scheduled for. Also ask your publisher to pay for bookmarks. My publisher also made me an 11X14 mounted poster of my book cover that I've been displaying on a table easel at events.

WEAR WALKING SHOES

Leave the cute diva heels or sandals at home. Convention floors are often concrete and there is a lot of walking between hotels and restaurants and parking garages. This year I bought black Nike leather walking shoes, and wore them in a week before hitting the convention floor.

BRING SWAG

Kathleen Duey, author of the RESURRECTION OF MAGIC (S&S) trilogy, is who I credit for showing me how to work an exhibit hall floor. Kathleen showed me how to be friendly, but not pushy. We would walk the exhibit hall aisles and pass out our bookmarks or brochures to librarians who were standing in lines, and just talk to the librarians as fellow bibliophiles. When I hand out a bookmark it's with the intent that the person can use my bookmark in any book, not necessarily mine. After all, book people can never have too many bookmarks. Kathleen also has a policy that I adopted, and that is to not enter drawings or take swag or ARCs that are intended for librarians.

BYOB--BOOKS THAT IS, IF POSSIBLE

This advice is only applicable if you are signed up to participate in events other than your publisher's booth. My publisher did not have a booth at TLA 2014. However, Adams Media/ F+W Media supported me by donating 156 Merit Press books of three authors who had planned to attend—myself, Beth Fehlbaum and Elisa Nader. I also signed at a bookseller's booth, and he said he would order five of everyone's books.

However, I scheduled two one-hour sessions in Author's Row and, because my publisher did not have a booth, I had to bring my own books. I brought 20. When I showed up for my first signing at the bookseller's booth, he had not gotten my five books in, so I used the books I brought in for sale.

Even if your publisher does have a booth, consider what happened at the teen event. The Random House books did not arrive so that author left and missed out on handing out her books free to the teens.

PLUG IN WITH SCBWI

If you are having trouble navigating how to plug-in to a state library convention, then I recommend contacting your regional SCBWI chapter and volunteering to work at this wonderful organization's booth.

MY TLA 2014 EXPERIENCE

TLA 2014 has been the busiest and best for me. Beth Fehlbaum, author of BIG FAT DISASTER (Merit Press), invited me on a panel proposal about religion, and lack of religion, in YA lit. The proposal was accepted. [Note: In a follow-on article I will discuss this topic, including how librarians handle protests against books.]

Through this proposal acceptance also came invitations to join in a Teens 4 Libraries event. Merit Press sent 50 copies of NO SURRENDER SOLDIER for the teen readers. I signed them in 15 minutes. At one point I looked down and saw I had only about seven books left. I stood and called into the crowd, "Any boys here? Please come up and get a book." Three boys were able to work their way to my table spot. When I ran out of books, since I was given a 1/2 hour, I signed bookmarks, then went out into the crowd of 500 teens and passed out more bookmarks, especially to the boys who were so polite that they let the girls push in front of them.

For the Texas Librarian Tea, my publisher donated two of my novels the TLA organizer had requested for a drawing. The event was set up like speed dating. I pitched for 10 minutes each session to eight tables of eight librarians per table.

SELLING AND SIGNING

In all, three autographed sessions were arranged—once at a bookseller's booth and twice in Author's Row. In a previous article about book festivals I said that it's not about how many books you sell. The same is true for library conventions. The contacts you make with librarians, both in pitching your book and pitching yourself for programs, is more valuable long-term than the immediate sales at the conference. Consider, for example, that many librarians go back to work in the weeks following the convention and order several of your books for their libraries. Your presence at a library convention may have a ripple effect lasting the entire year or more.

So go, have a good time, try to pace yourself, and make lots of new friends with all these wonderful book people.