WAR LITERATURE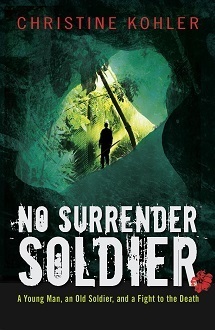 September 13, 2013
"War is a terrible thing, and many return with wounds invisible to the eye." -- Terry Pratchett, DODGER (HarperCollins, 2012)

This is true of all my characters in NO SURRENDER SOLDIER. The after-effects of war on people's lives are like contracting a genetic disease, even passing it down to future generations.

PUBLISHER'S WEEKLY ARTICLE

Men often ask me how I got interested in writing about war. I usually tell them about my experiences as a reporter living in Pacific-Asian nations. However, since Publisher's Weekly reporter Sally Lodge wrote an article that included NO SURRENDER SOLDIER as a book that helps teens make sense of war Publisher's Weekly it got me to thinking about how I became interested in war literature.

MY INTRO TO WAR LITERATURE

When I was six years old my dad bought World Book Encyclopedia and Childcraft. From Childcraft my dad read to me poems by Rudyard Kipling, Wadsworth, Longfellow, and Tennyson. My two favorites were "Gunga Din" and "The Charge of the Light Brigade."

My dad had served in the U.S. Navy for two years during World War II. He had enlisted at age 16. He never talked much about his experience except I knew that he couldn't swim, he got seasick, and he was stationed on Greenland. My dad is also a self-taught historian and, in particular, Civil War history. So when we went on vacations he took us to nearly every Civil War battle site and told me stories about the war.

The story I remember most from my elementary reader is RED BADGE OF COURAGE by Stephen Crane. When I participated in Declamation (now called UIL Speech) in middle school I selected the poem "Barbara Frietchie" by John Greenleaf Whittier. By high school I was reading THE SUN ALSO RISES by Ernest Hemingway and DR. ZHIVAGO by Boris Pasternak. I loved reading about the Russian war and hated the illicit Romance. In THE SUN ALSO RISES the romances also did not interest me and the scene I remember most is in the bar when they are discussing the castrated bulls; I knew this book was about how war castrates men.

When I went to college the novels I liked best had war backgrounds, although I never thought of it that way. I discovered Graham Greene and, in particular, loved THE POWER AND THE GLORY, about the last priest in Mexico during the Spanish Inquisition. To me, these books were about people and how they endured during extraordinarily horrendous circumstances.

WRITING ABOUT WAR

I could fill pages telling you about authors and books and poems that I have read and loved about people during wartime. And maybe you could to. Maybe you haven't thought about these much loved stories as war stories, but rather stories about people--as I saw them.

Since I am reflecting on this theme of war in literature let me share how this came out in my writing career. When I was a reporter my heartstrings tugged when I heard the stories of refugees. So for decades I wrote about war refugees. My first article in the mid-1980s was about Laotians who came to Hawaii to start new lives. My last news article on the topic was in the mid-90s when Russian Jews relocated to the United States. I also wrote a HI/LO book in 2003 for Harcourt/Houghton Mifflin about war refugees who came to the United States FOR A BETTER LIFE. (It was in print for 10 years.)

While a reporter in the West Pacific I interviewed a Kuwaiti Sheikh and a human shield during the Gulf War. I covered the first incineration of World War II chemical munitions that were brought out of East Germany when the wall was torn down. And on Guam's annual Liberation Day celebration I interviewed Guamanians who had been subjugated by the Japanese during World War II. It was out of these stories while I lived on Guam, Japan, and Hawaii, plus my travels to the Philippines, Saipan, and Korea that led me to write about war in Pacific–Asia in NO SURRENDER SOLDIER.

Even though NO SURRENDER SOLDIER takes place in 1972 at the end of the Vietnam civil war and revolves around events from World War II, I don't think of my book so much as being about war as dealing with the after-effects of war on the individual.

As General Sherman said, "It is only those who have neither fired a shot nor heard the shrieks and groans of the wounded who cry aloud for blood, for vengeance, for desolation. War is hell."

And, regarding the survivors, he said, "Courage--a perfect sensibility of the measure of danger, and a mental willingness to endure it."

It is my hope that NO SURRENDER SOLDIER honors those-- on all sides of the battle lines-- who endured, survived, and rose above the pain of war.