GOURMET YA LITERATURE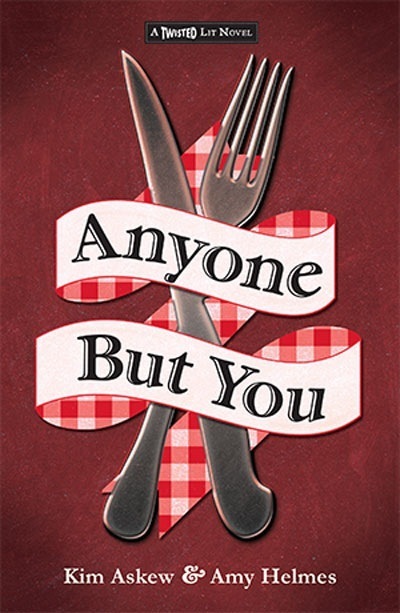 October 24, 2013
GOURMET YA LIT

In celebration of Thanksgiving, the annual big pig-out feast, in Canada (Oct. 14) and the U.S. (Nov. 28) I'm running a series of articles about food in young adult (YA) literature. In today's article I've asked Kim Askew & Amy Helmes, co-authors of ANYONE BUT YOU (Merit Press, Jan. 18, 2014) and
Suzanne Kamata, author of GADGET GIRL: THE ART OF BEING INVISIBLE (GemmaMedia, 2013) to tell you why food is important, and prevalent, in their stories. (*Ed. note: The authors wrote the articles but I edited their articles into third person.)

ANYONE BUT YOU is a retelling of Romeo and Juliet in Chicago Italian restaurants. Mmm…pizza, anyone? To get a taste of how cleverly creative Kamata plays with food and cooking utensils, here's a quote from GADGET GIRL: "Luckily, Gadget Girl has brought along her crème brȗlée torch. She's been planning on using it to make a surprise dessert for Chaz's victory dinner, but she whips it out early to melt the golem."

Warning: You might want to wear a bib in case you drool while reading.

ANYONE BUT YOU by Kim Askew & Amy Helmes

The inspiration for Askew and Helmes' third Twisted Lit novel, ANYONE BUT YOU, was the Montague and Capulet animosity in Romeo and Juliet. Why did the families despise each other in the first place? The authors' re-imagined saga revolves around a bitter rivalry between two family-owned Italian restaurants in Chicago, and the mystery of how their feud began. Naturally, Askew and Helmes were influenced by the ongoing debate over who makes the best Chicago deep-dish pies: Gino's East? Giordano's? Lou Malnati's? Pizzeria Uno? (Uh...they're opting not to weigh in with a verdict on that, lest any diehards out there come after them with pizza-cutters!) The star-crossed lovers, Roman and Gigi, find forbidden love against the backdrop of homemade pasta and pizza dough. Going back in time—1933, to be exact—to explore the imagined history of their families' epic impasse gave the authors an opportunity to tell the fascinating history of pizza in America. The dish wasn't always standard fare in the States, but like the works of Shakespeare, it's become a classic readers would be quite reluctant to live without.




GADGET GIRL by Suzanne Kamata.

For Kamata (an American who lives in Japan), food is an integral part of culture. When reading a book set in a foreign country, she's always interested to know what people eat. Kamata is sometimes even inspired to cook food mentioned in the book in order to add to her reading experience. She recently read a book set in Japan, which is one of the most food-obsessed cultures on earth, in which there were virtually no references to food. It made her distrust the author of that book a bit. How much did the author really know about Japan? Kamata wondered.

In GADGET GIRL, the heroine, Aiko, visits France, another food-obsessed culture, so there are many references to cooking and various types of cuisine reflecting Paris's multi-culturalism.

Food is also associated with love and affection...and motherhood. The mother in Kamata's book is not terribly interested in cooking. The mother raising her daughter, who has cerebral palsy, single-handedly while pursuing her art. She doesn't like cooking. Kamata said her intention was not to write a bad mother, but to show that there are different ways of being a good mother. Kamata thinks it's important to teach kids the value of art, of having a consuming passion, of pursuing one's art. Aiko and her mother take turns cooking (which allows the reader to see that even a person with "challenges" can put dinner on the table and be independent).

Kamata also wanted to play a bit with expectations about gender. In her house, her Japanese husband makes breakfast every morning, cooks most meals on weekends, and packs their son's lunch. Although this is atypical in Japan, Kamata doesn't think it shouldn't be. Aiko's mom's boyfriend, Raoul, is a big foodie. He loves cooking and produces fabulous meals for Aiko and her mother. And why not?

WEIGH IN

What YA novels do you drool over where food plays an important role?